TLDR.
Don't have enough time to read the entire blog right now? No problem! Here are the key points as to why your business should use TikTok ads.
TikTok is partnered with easy-to-use sites that direct businesses on how to make the perfect ad for their business. TikTok Ads show a brand's creative side and leave users feeling a sense of connection. This will increase the chance of them purchasing a product on the app.
Users will tend to buy items on TikTok, even when they have no intention of shopping. Some users will create review videos of products and inspire others to do further research or actually make a purchase. 
There is a range of generations that are currently on TikTok. The app reported last year that it had been downloaded over 3 billion times and currently holds a spot in the top 10 most used social platforms.
TikTok has a variety of advertising tools that help businesses reach their target audience. From being the first video users see, to popping up in the "For You" feeds, or even developing a challenge for all users to participate in by showing off their creative ideas.
Recently TikTok has made altercations with the app that now allows users to shop without having to travel to a separate webpage. The app now offers options that will display relative product information based on user activity. 
Businesses like Coca-Cola, BMW, and Gymshark are taking full advantage of TikTok and have had great success and brand impressions and community engagement from running TikTok Ads.
Introduction.
It's almost impossible to go anywhere without hearing about the newest challenge on TikTok. In recent years, this app has grown to become one of the most popular social platforms across the globe. As the apps popularity grew, so did the use of TikTok ads. 
Now, at first glance this probably seems like something that would only interest secondary school or college students. In reality, there are a countless number of brands growing their numbers by using TikTok ads. The easy to use features and it's far reach of viewers, allow businesses to express themselves in the most creative way possible.
This blog uses real-life business success stories to highlight the compelling reasons why using TikTok ads will help expand your brand. 
TikTok Ads Are Easy To Make & Show a Creative Side
TikTok has multiple tools available that help businesses create the perfect ads for their target audience. 
Vimeo and Canva, both TikTok partners, are easy-to-use sights that will lead businesses in the right direction when designing ads.
A business being creative by expressing themselves through TikTok is an effective strategy to lure the audience's attention. It can form a connection which will increase the chances of product purchases. 
Recent research showed that over 70% of TikTok users were more likely to buy a product when they felt a connection to the business. Other results showed that users agreed the most favourable brands were those who worked with them to share ideas.
To see more results of this recent research provided by TikTok, read more here.
TikTok Advertising Persuades Users to Shop
When users become interested in products from their feeds, they will either continue their research or make a purchase. 
Those who purchase the products usually have the habit of posting their findings on TikTok. Some users will even make tutorials regarding a previously purchased product. The users' reviews are available for everyone. Businesses have an opportunity to listen to customer feedback and make adjustments as necessary.
This is a great way to spread the word about the product and persuade others. Also, it shines a light on the business, its other products and brand personality. 
For example, EA Sports began using TikTok influencers to promote their video games. EA Sports recruited three different influencers to create comedy videos or make shout outs to several different video games. Both the video games and influencers received a massive amount of attention, especially Apex Legends. At one point, TikTok reported that #apexlegends had received 546.6 million views.
TikTok Has A Very Large Audience
TikTok has been named the most available video app, not just in one or two countries, but all across the globe. Download is available in over a hundred markets and in numerous languages. 
In 2021, TikTok was pleased to announce that the app had been downloaded over 3 billion times. Also, it was ranked in the top 10 for the most used social platforms in the world.
Some claim that this app is only for the younger generation, but that is not the case. TikTok users range from Gen Z to Baby Boomers. Actually, younger generations are now preferring TikTok over Instagram.
See research findings here.
Now you're probably wondering how it is possible to find target customers in this big pool of users. No need to worry, TikTok has you covered! Singearch through users' accounts to find potential customers is unnecessary because TikTok is set up to show users content that interests them based on their activity on the app.
There Are Multiple Advertising Techniques to Reach Users
TikTok has several options for brands to reach users and show their creative ideas;
One of the most effective ways for businesses to impress users. TopView is the first thing shown in users' feeds. TikTok has reported that TopView grabs 71% of its viewers' attention.
These pop up in the users' For You feed and mixes the new content with the regular. The majority of TikTok users have said to enjoy the ads shown on their feed. These ads usually lead users to continue further research or purchase a product. 
Branded Hashtag Challenges
If a business would like to try something outside the box to engage their audience, this is the way to go. According to TikTok, there is a median engagement rate of 17.5% for Branded Hashtag Challenges. Users have a good time participating and it brings a lot of brand awareness.
Find these results and more info by clicking here.
Shop Using TikTok Ads
This year TikTok has made adjustments to where users do not have to leave the app to purchase products. From now on pages will allow users to shop directly from the app by;
Product links allow users to select a product from the For You page and provide them with more relevant information.

Collection ads display various products at once with the corresponding links.

Dynamic showcase ads turn a brand's inventory into ads and give access to the users that show interest, based on activity.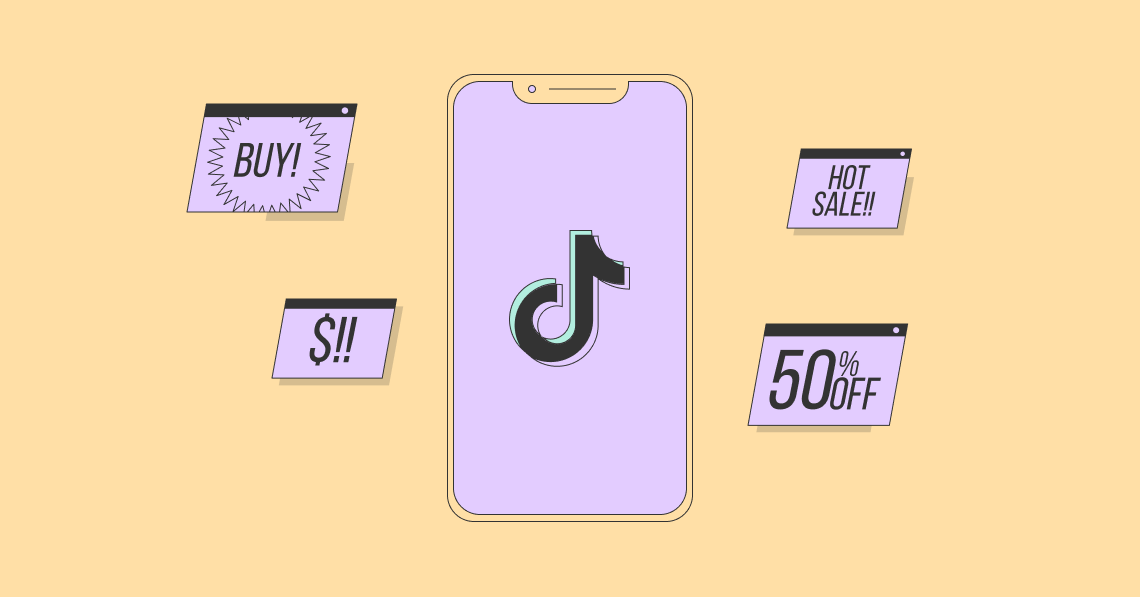 Other Brands That Succeeded with TikTok Ads
TikTok is filled with businesses who are becoming more and more successful.
The following are stories from actual brands that used TikTok ads to grow;
Doritos crafted a comedic dance battle video to start #CoolRanchDance challenge and almost reached 3,000 participants.

Ralph Lauren used #WinningRL tied with a question to engage audiences. This hashtag managed to receive 600 million views.
All three established campaigns on TikTok, and all saw improvements. These businesses have nothing in common with each other, but both of them proved that TikTok really is for everybody!
To view all the numbers from these brands' successful campaigns, click here.
Conclusion.
TikTok may have started off as an app for teenagers to show off their dance moves, but it has become something more. All generations in different parts of the world are signing on. This creates a massive audience for brands to reach. 
TikTok ads are having positive effects on brand awareness and online sales. The app's popularity has only been predicted to increase, so what is your business waiting for? 
If your business is wanting to increase profit, spread the word of new or past products, while showing a creative side, then TikTok ads are perfect. 
Have questions? Check out our website or contact us to have a chat!